Whoever named it the 'Sunshine Coast' may have not been the world's most creative person, but they sure were on the money! Home to long, warm days throughout Summer, the Sunshine Coast has some of the best beaches Australia has to offer!
How we Picked the Best Beaches in the Sunshine Coast
With so many pristine spots to swim, surf and relax along this idyllic stretch of coast, choosing the best spots for you can be a difficult task – and not all beaches are made equal. So, to help plan your ideal beach-hopping itinerary over a morning coffee, we've listened to what the locals have to say, picked out 11 of the best beaches in the region and arranged them by the experiences they bring to the table.
Whether you're looking to get some surfing action in the waves, need a safe, calm beach to take the little ones, or you're on the hunt for spectacular marine life, these beaches are sure to make your trip to the Sunny Coast a memorable one.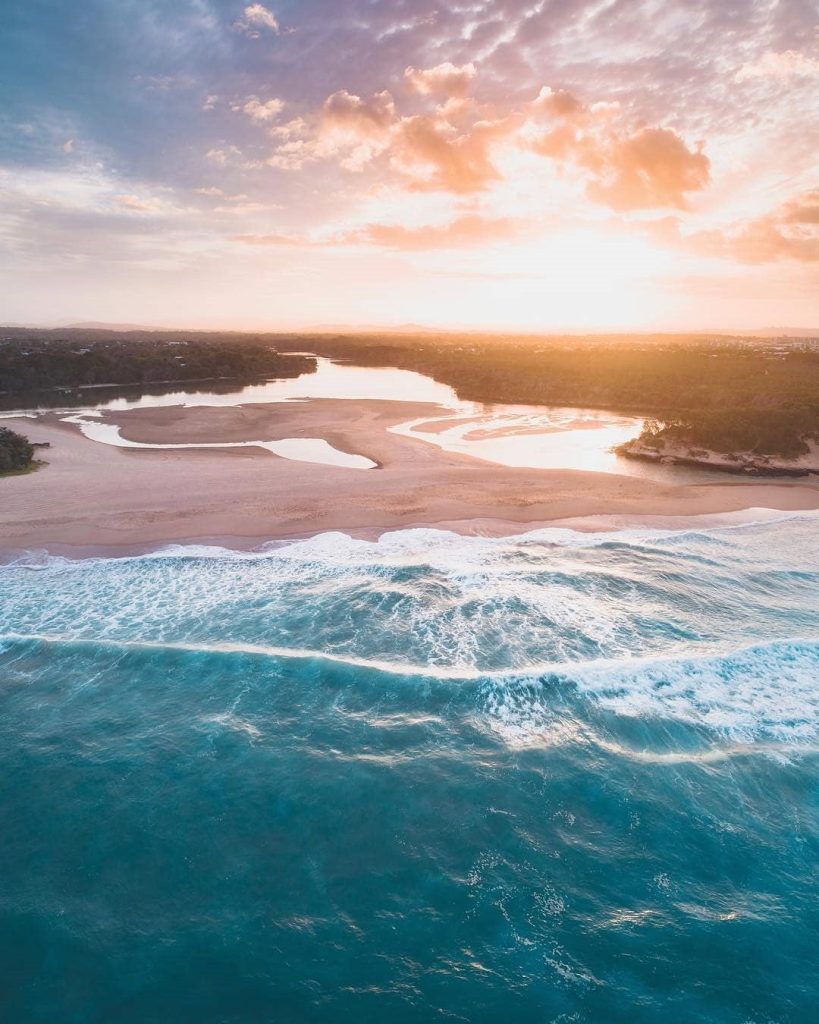 Best calm water beach
With warm, shallow waters and not a wave in sight, this beachside saltwater lake is the ideal spot to take the little ones out for a day in the sun. Currimundi Lake is located just 10 minutes North of Caloundra town centre, and often naturally alternates between being opened and closed to the ocean at Surf Beach.
The natural sand formations at Currimundi mean that almost year-round, this pristine spot is mostly calm and safe, making it perfect for young families to enjoy a splash around together. If you prefer not to get sandy on a day outside, there's also a grassy park area, complete with BBQ shades, benches and public toilets.
Get directions to Currimundi Lake
---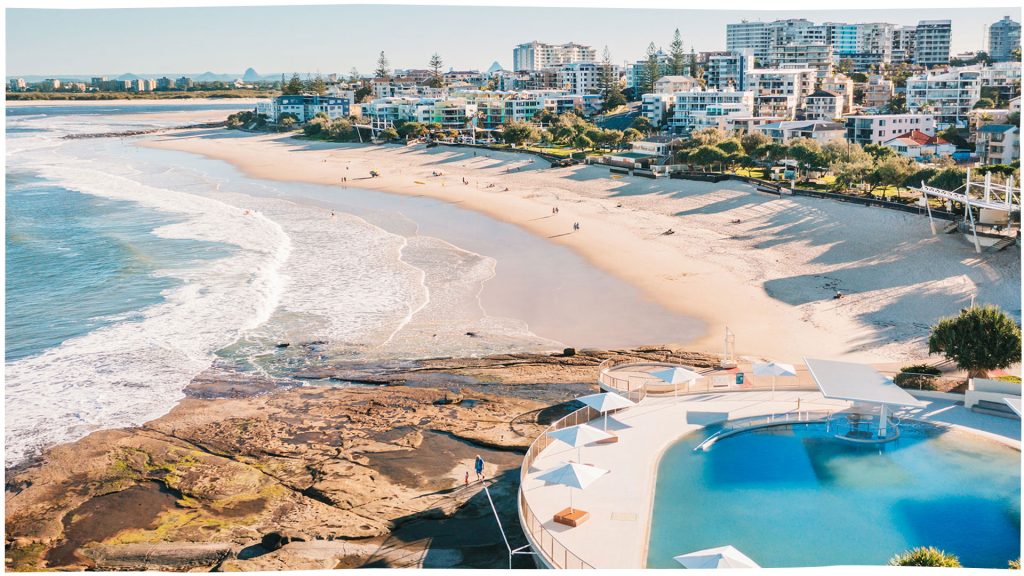 2. Kings Beach, Caloundra
Best family beach with nearby shops
Kings Beach is located a short walk from Caloundra town centre. Another fantastic spot for families, Kings Beach and the adjacent Lions Park have a playground, bandstand and a saltwater swimming pool, so it's great if you've got young kids or prefer a calmer dip. The beach also has a lifeguard tower and is regularly patrolled, so more surf-wise kids can still enjoy a safe swim in the sea.
If you're looking to stay in the area, the Kings Beach suburb and nearby Caloundra also boast a variety of accommodation options to keep you and your family comfortable and close to the action.
---
3. Peregian Beach, Peregian Beach
Best quiet family beach
If you're keen to get out of the hustle and bustle, take your family over to this sleepy coastal village and its gorgeous local beach. Just a 10-minute drive south of Noosa Heads, Peregian
Beach is patrolled and adjoins a family-friendly park with plenty to see and keep the kids entertained.
When you've had enough sand and sun, the nearby town centre has a bunch of shops, restaurants and cafes to check out, all nestled within the relaxed, community feel of the town.
Get directions to Peregian Beach
---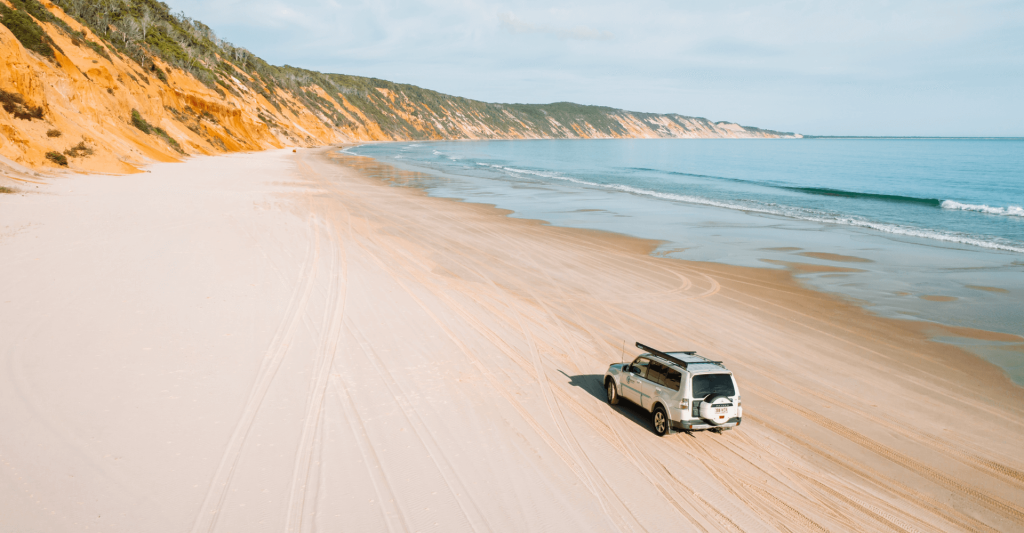 4. Rainbow Beach, Rainbow Beach
Best 4WD beach
The secluded town of Rainbow Beach is one of the gateways to the famously breathtaking Fraser Island, but the beach itself is just as magical a place to explore. With its spectacular colourful sands, steep dunes, sheer cliffs and pristine blue waters, Rainbow Beach offers an off-the-beaten-path adventure for the whole family.
If you're looking to take the thrills to the next level, you can even take an off-road drive directly to Rainbow Beach from Noosa, along the 'Great Beach Drive'. Here you'll enjoy 50km of sandy driving and beach views the entire way. Just make sure you plan your drive around low tide!
Get directions to Rainbow Beach
---
5. Marcoola Beach, Coolum
Best Family Surf Beach
If you're holidaying on the sunshine coast to hot some waves, keep Marcoola Beach on your radar. Just 10 minutes South of Coolum you'll find this beautiful beach, equipped with open grassy areas for picnics and family hangouts. But best of all, Marcoola Beach has a number of good breaks to catch waves away from the popular surfing spots.
Depending on the swell and weather conditions, the waves here range from clean, small beginner's breaks to sets for experienced surfers. Once you've finished up with surfing, you can enjoy a picturesque stroll along the forested beachfront boardwalk.
Get directions to Marcoola Beach
---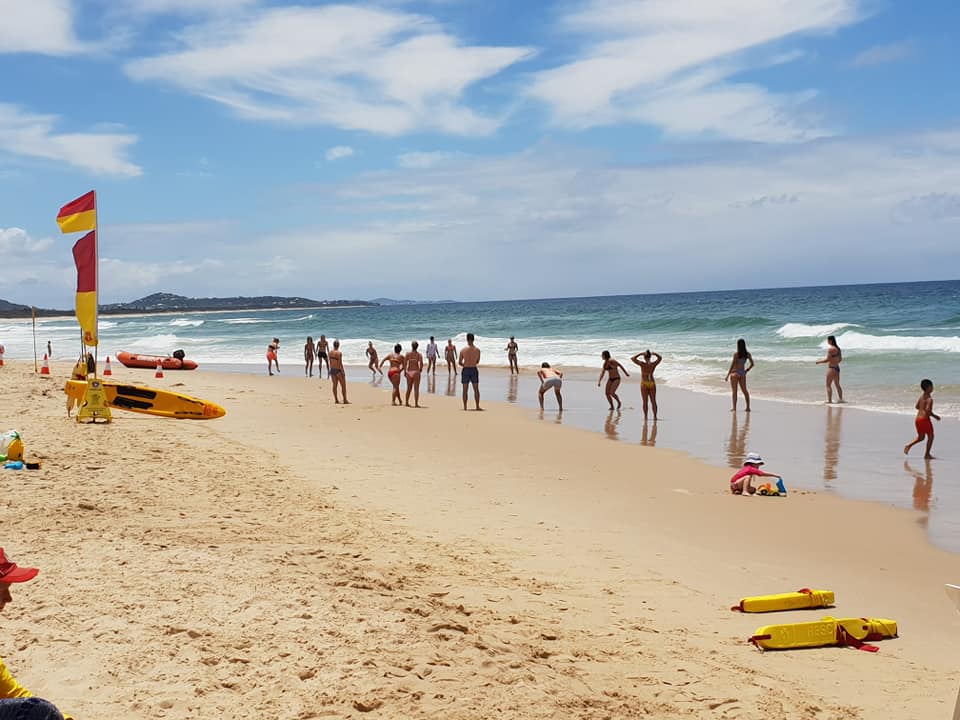 6. Mudjimba Beach, Mudjimba
Best Beach for Casual Surfers
Just across the water from Maroochydore, Mudjimba Beach is one of the best-kept secrets in Sunny Coast surfing. Under the watch of the gorgeous Mudjimba Island (or Old Woman Island), this pristine stretch of beach sees consistently good surf, year-round.
With plenty of parking nearby, as well as cafes and restaurants, Mudjimba is a super accessible and reliable choice for surfers tracking down the best waves in the region.
Get directions to Mudjimba Beach
---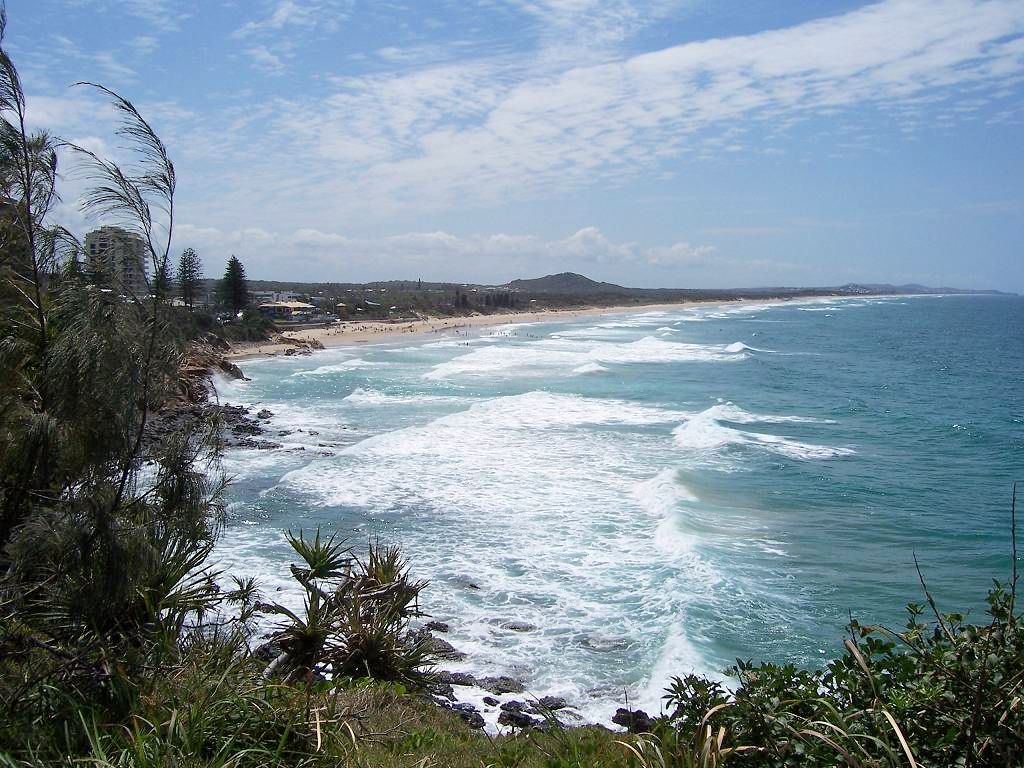 7. Coolum Beach, Coolum
Best Surf Beach for a variety of breaks
The best surfing spots are the ones that bring a variety of breaks to the table. And variety is exactly what you'll find at the famous Coolum Beach. With easy swells for beginners straight off of Coolum Beach, as well as steeper breaks for confident surfers in the numerous neighbouring coves, Coolum has a fun ride for all skill levels.
Patrolled year-round, Coolum's long beachside boardwalk also makes for perfect beach strolls. Fancy some whale watching? Coolum Beach is one of the Sunshine Coast's best beaches for whale watching during migration season (June to November).
Get directions to Coolum Beach
---
8. Moffat Beach, Caloundra
Best Surf Beach for Longboarding
With its fairly calm conditions and beautiful rock platforms, Moffat Beach just outside the hustle and bustle is a great spot for an enjoyable day in the waves. An unpatrolled beach, this stretch is home to the 'Ma and Pa Bendall Classic', Australia's longest running surf competition.
The broad and relatively slow surging waves make this beach an absolute dream spot for longboard riders, no matter the time of year. Try a coastal walk from here to Kings Beach or Bulcock Beach to admire the gorgeous Queensland coastline.
Get directions to Moffat Beach
---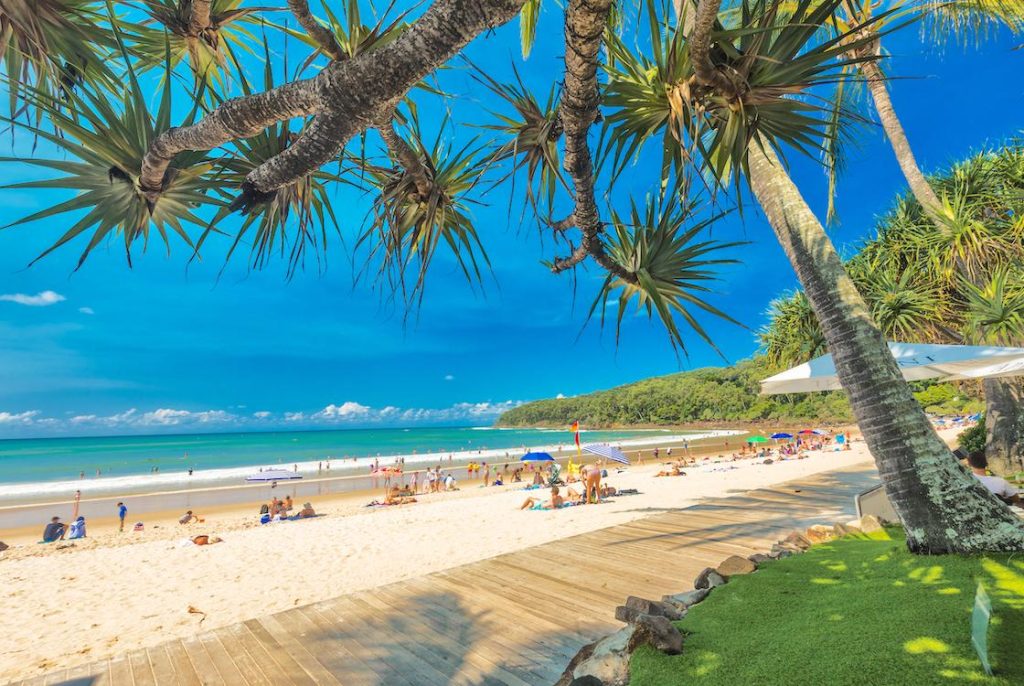 9. Main Beach, Noosa Heads
Best Family Surf Beach
As one of the country's only North-facing beaches, Main Beach in Noosa boasts calm, clean waters and gentle swell through almost the entire year. This pristine beach is also right in the heart of the action with Noosa's famous Hastings Street just next door, home to some of the best cafes and bakeries in town.
Whether you're taking your littlies on a surfing adventure, or you're after some relaxed wave riding, Main Beach has you covered.
---
10. Tea Tree Bay, Noosa National Park
Best Beach for Snorkelling
If you're in the mood for total immersion in nature, Tea Tree Bay is the destination for you.
Accessible via a serene walking trail through Noosa National Park, this secluded cove is perfect for hours spent exploring the wonders of the sea.
Get up close and personal with a huge variety of marine critters and plants in the many sheltered rock pools, before hitting the trail back to town.
Get directions to Tea Tree Bay
---
11. Alexandria Bay, Noosa Heads
Best Hidden Beach
Set amidst the gorgeous Noosa National Park, Alexandria Bay is a pristine, secluded place to relax and explore. Suitable for confident swimmers and experienced snorkelers, 'A-Bay' as the locals call it is teeming with marine life, including colourful corals, fish, sea stars and more.
Pack a lunch, plenty of water and sunscreen for your adventure out to this local favourite – it's almost an hour's walk each way through the National Park to reach the Bay.
Get directions to Alexandria Bay
---
So whether you're exploring beautiful beaches solo, or you've got the little ones in tow, the Sunshine Coast is the beachy paradise you've been looking for. With world-class surfing, so many spots to relax with the family, and pristine marine environments to explore, there's something for every kind of beach-goer on the Sunny Coast.
FAQs about Sunshine Coast Beaches
Which are the most popular beaches on the Sunshine Coast?
Some of the most popular beaches on the Sunshine Coast include Noosa Main Beach, known for its pristine shores and vibrant atmosphere, Mooloolaba Beach, renowned for its golden sand and buzzing esplanade, and Kings Beach in Caloundra, offering stunning views and a range of family-friendly amenities.
What are some family friendly Sunshine Coast beaches?
For a memorable family-friendly beach experience on the Sunshine Coast, Kings Beach in Caloundra is highly recommended. With its calm waters, patrolled swimming areas, playgrounds, and picnic spots, it provides the perfect setting for a day of fun and relaxation.
What are the best hidden beaches on the Sunshine Coast?
If you're seeking a secluded or hidden beach on the Sunshine Coast, consider visiting Coolum Beach. Nestled between Noosa and Maroochydore, this idyllic stretch of coastline offers pristine shores and a laid-back atmosphere, ideal for those seeking tranquility and natural beauty
What are some of the best surfing beaches on the Sunshine Coast?
Surfing enthusiasts should not miss out on Sunshine Beach, which boasts excellent surf breaks and draws both locals and visitors alike. Its consistent waves and stunning coastal scenery make it a popular spot for riders of all levels.
Are there any dog-friendly beaches on the Sunshine Coast?
If you're traveling with your furry friend, Mudjimba's North Shore Beach is the place to be. This dog-friendly beach allows dogs off-leash, offering them plenty of space to run and play fetch while enjoying the scenic coastal environment.
Which beaches on the Sunshine Coast have the clearest waters?
Noosa Main Beach is renowned for its crystal-clear waters, making it a must-visit beach on the Sunshine Coast. Its gentle waves and remarkable clarity create an inviting environment for swimming, snorkeling, and enjoying water activities.
Are there any beaches on the Sunshine Coast with tide pools or rock formations?
Point Cartwright on the Sunshine Coast is a captivating destination where visitors can explore fascinating rock formations and discover tide pools during low tide. It's a fantastic beach to immerse yourself in nature's wonders and enjoy scenic walks along the coastline.
Can you suggest beaches on the Sunshine Coast with great snorkeling spots?
If you're keen on snorkeling, make sure to visit Moffat Beach on the Sunshine Coast. Its rocky reefs are teeming with marine life, offering snorkelers an opportunity to witness an array of colorful fish and other fascinating underwater creatures.
What amenities are available at the beaches on the Sunshine Coast?
Most beaches on the Sunshine Coast are equipped with amenities such as showers, toilets, and picnic areas, ensuring visitors have a comfortable and enjoyable experience. Noosa Main Beach and Mooloolaba Beach are among the popular beaches that provide these facilities.
Are there any beaches on the Sunshine Coast with wheelchair accessibility?
Coolum Beach offers wheelchair accessibility with the help of beach matting, allowing individuals with mobility challenges to access the sandy shoreline and soak in the breathtaking ocean views. It ensures that everyone can enjoy the coastal beauty of the Sunshine Coast.
Which beaches on the Sunshine Coast are close to cafes and restaurants?
Noosa Main Beach and Hastings Street offer the perfect combination of beautiful beachfront and a vibrant dining scene. Located adjacent to each other, you can enjoy a beach day at Noosa Main Beach and easily access the array of cafes, restaurants, and bars along the popular Hastings Street.