If you love the beauty and adventure of the outdoors, plan a trip to one of the great bush walking trails on the Sunshine Coast. Explore nature and wildlife in these peaceful surroundings as you enjoy hiking through some of Australia's most beautiful scenery. You might want to explore the top glamping sites on the Sunshine Coast. Here are five popular trails that you'll want to explore.
Forest Trails
1. Glass House Mountains National Park

Located just two km from the Glass House Mountains village, this nature trail offers something for everyone. Scenic trails accommodate beginners with no hiking experience and more experienced hikers. Beginner trails are five to ten km long with flat even terrain. Harder trails are 10 to 20 km long with different terrain levels that can include steep cliffs. Trails wind through eucalyptus trees and casuarina groves with lookout points that offer incredible views. Trails provide picnic tables and restroom facilities. To get to the trails, turn off Steve Irwin Way onto Barrs Road to the car park entrance on Marshs Road.
2. Mooloolah River National Park

The Mooloolah River bushwalking trails are easy hiking trails with even surfaces that are perfect for hikers with no experience. The scenic trails wind along the Mooloolah River with picturesque views of the forest and the river. Explore the Melaleuca Walking Trail, one km long, that takes you through a eucalyptus forest, a beautiful rainforest and the Melaleuca swamp. Along the river banks, you can expect to see some platypus at dawn and at dusk. These strange creatures thrive in the Mooloolah River. Trails include picnic tables, barbeque pits, camping sites and restroom facilities. To get to the trails, from Bruce Highway take Steve Irwin Way which is adjacent to the Caloundra turnoff.
3. Kondalilla National Park

Trails in the Kondalilla National Park offer hikers a great outdoor experience. Named after the Kondalilla Falls located in the park, you can see this spectacular waterfall that gushes 90 meters into a valley that's surrounded by a cool rainforest. The park offers beginning and mid-level trails that provide hikers with scenic views through the rainforest, home to many native plants and animals in the area. Choose an easy bush walking trail that's 24 km long through Picnic Creek. Stop and enjoy the picnic tables and barbeque pits while you watch the falls. Try the three km Rock Pools Walk with slightly hilly terrain, or the five km hike for more experienced hikers through Kondalilla Falls Circuit. To get to the trails, drive west from Nambour to Mapleton and take Kondalilla Falls Road to the signs.
Wetland Trails
4. Noosa National Park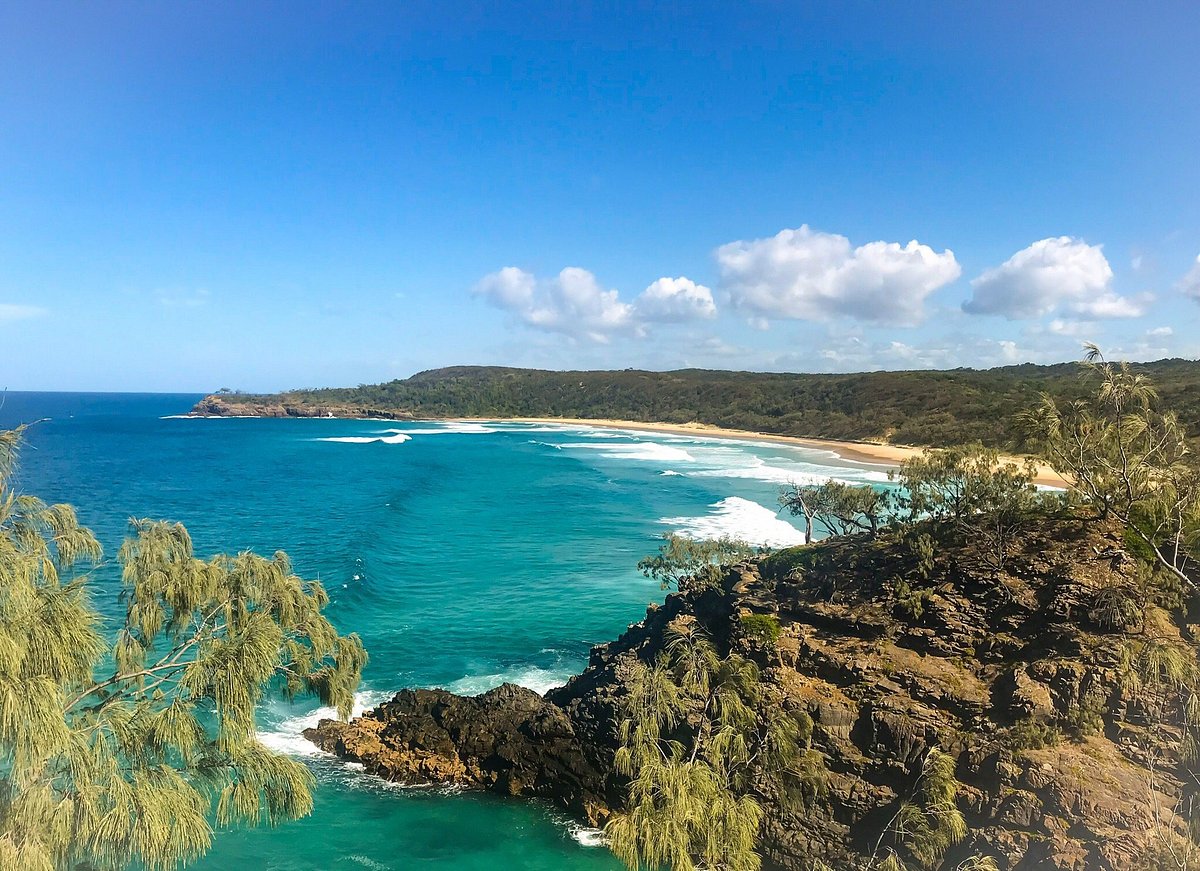 Noosa National Park provides bushwalking trails along rocky coastlines and inland rainforests. There are five different trails that range from easy to moderate skill levels so you can easily find a trail that fits your needs. You can see koalas sleeping in the trees, dolphins playing in the surf and manta rays along the coastline. The rainforest trails offer glimpses of rare black cockatoos that inhabit the area. Choose an easy, short one km hike through Palm Grove Circuit or a three km hike at Noosa Hill. For experienced hikers, take the Tanglewood Trail, a seven km hike through the rainforest, or the11 km Coastal Trail with ocean views. Trails include barbeque pits, information stops and restroom facilities. To get to the trails, take Hastings Street to Park Road and follow signs to the car park entrance.
5. Maroochy Wetlands Sanctuary

This beginner bushwalking trail allows hikers to explore the rainforest and wetlands. Take a one km nature trail that contains a sealed boardwalk to keep visitors safe and protected through the wetlands. Explore eucalyptus forests, melaleuca forests, casuarina woodlands, salt marches and mangroves. Visit the Bilai Environmental Education Center for spectacular views of over 200 native bird species. The Maroochy Wetlands Sanctuary has picnic tables, rest areas and restroom facilities. The beautiful wetlands sanctuary is located on Sports Road, Bli Bli.