If you want to immerse yourself in nature during your visit to the Sunshine Coast, but don't want to sacrifice comfort, glamping is the way to go. A modern fusion of glamour and camping, the Sunshine Coast brings you an incredible range of options for your stay.
Whether you're a family looking for adventure, a couple seeking a romantic getaway, or simply someone who loves the great outdoors or Nature Trails On The Sunshine Coast but doesn't want to carry a tent on their back, the Sunshine Coast has something gorgeous to offer you. Don't forget to check out some of the top Cafes & Coffee spots in the area while you're here.
In this guide, we've handpicked 9 incredible glamping spots that offer unique experiences for every type of traveler.
How We Picked the Best Glamping Spots on the Sunshine Coast
With an abundance of stunning glamping options to choose from, we carefully curated this list based on factors including location, amenities, and the overall experience they provide. We checked reviews from multiple sources to ensure consistently positive feedback and high ratings. Next, we learned what makes each option unique, guaranteeing you'll find a spot that is truly exceptional.
So, let's dive into some of the best glamping destinations on the Sunshine Coast!
Best For Family Friendly Fun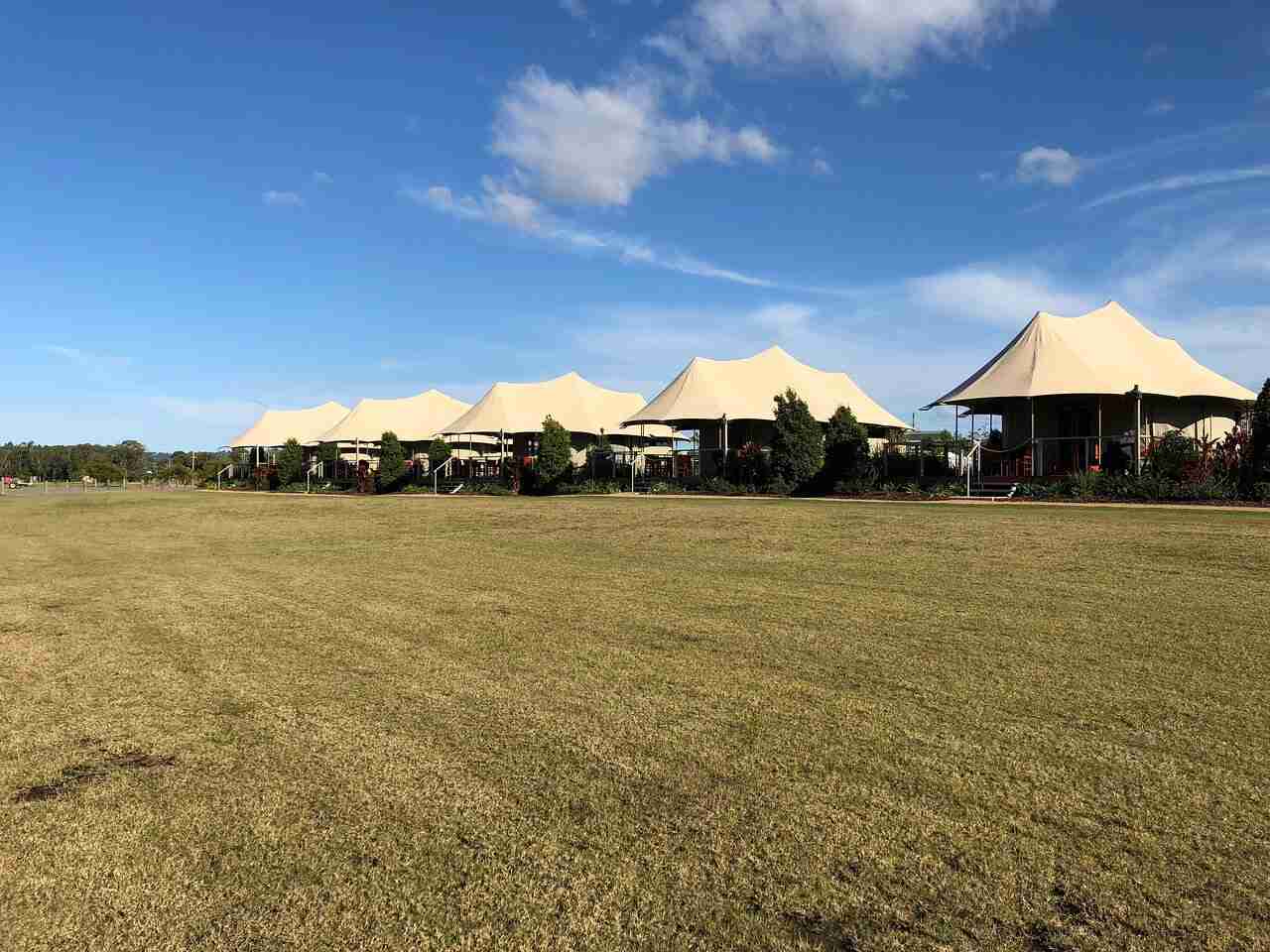 Ingenia Holidays Rivershore is a true family destination on the serene banks of the Maroochy River. When you're tired out from fishing, kayaking, and paddleboarding in the river, families can head to the heated pool and the separate children's pool with slides. The fun continues with mini-golf, a large playground, and a giant 20m x 9m trampoline, perfect for the young and the young at heart.
There are 17 glamping options including cosy 2-person Airstream trailers and gorgeous 6-person safari tents each with a king-sized bed, modern ensuite bathroom, kitchenette, and scenic river views. There's no need to pack food, the on-site restaurant is open 7 days per week for breakfast, lunch and dinner.
Furry family members are also welcome, dogs are allowed with advanced booking. Bring the whole family for a memorable adventure at Ingenia Holidays Rivershore.
Best For Couples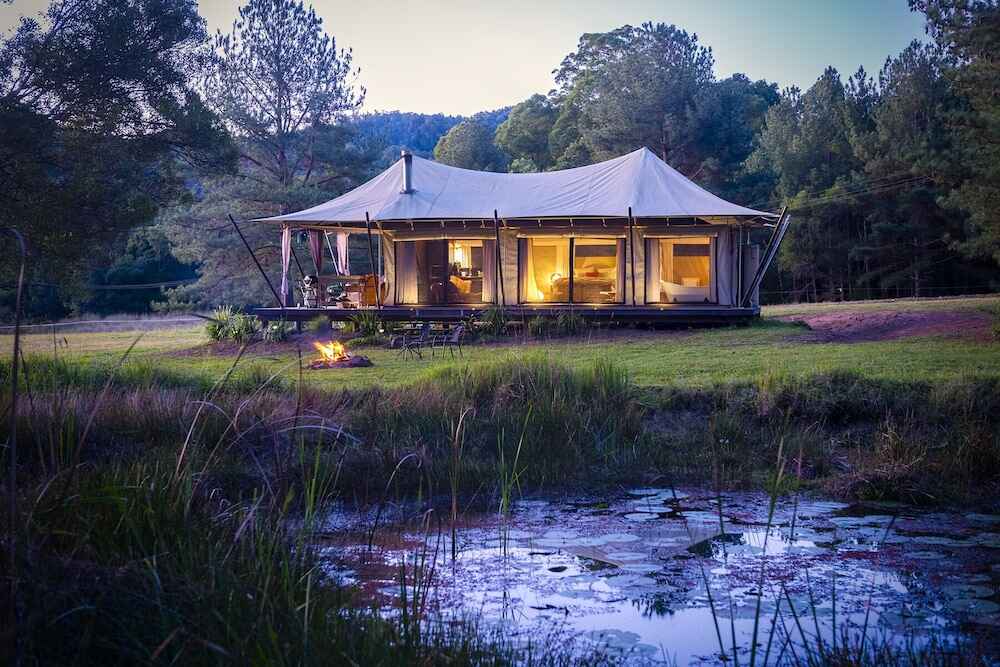 If you're seeking a peaceful spot for some private time, look no further than Kanimbia Luxury Glamping, a couples-only haven where lush green pastures meet the edge of tropical rainforests.
Luxury safari tents, strategically placed for privacy, come with outdoor fire pits for sunset views. Other tents offer themed experiences, such as Silk Road, positioned nearest to the site's friendly horses, and the Arabian Marrakesh Empress Tent, featuring an outdoor claw foot bath overlooking the bush.
While kitchen facilities are available for guests, Kanimbia also offers luxury food packages with high quality wines, champagne, chocolate covered strawberries, charcuterie platters, and more. Special packages are available, including the popular proposal package for couples taking their relationship to the next level.
Whether you're taking a dip in pristine creek waters or enjoying a massage overlooking the bush, couples will find excitement and relaxation together at Kanimbia.
Best For Everglades Adventures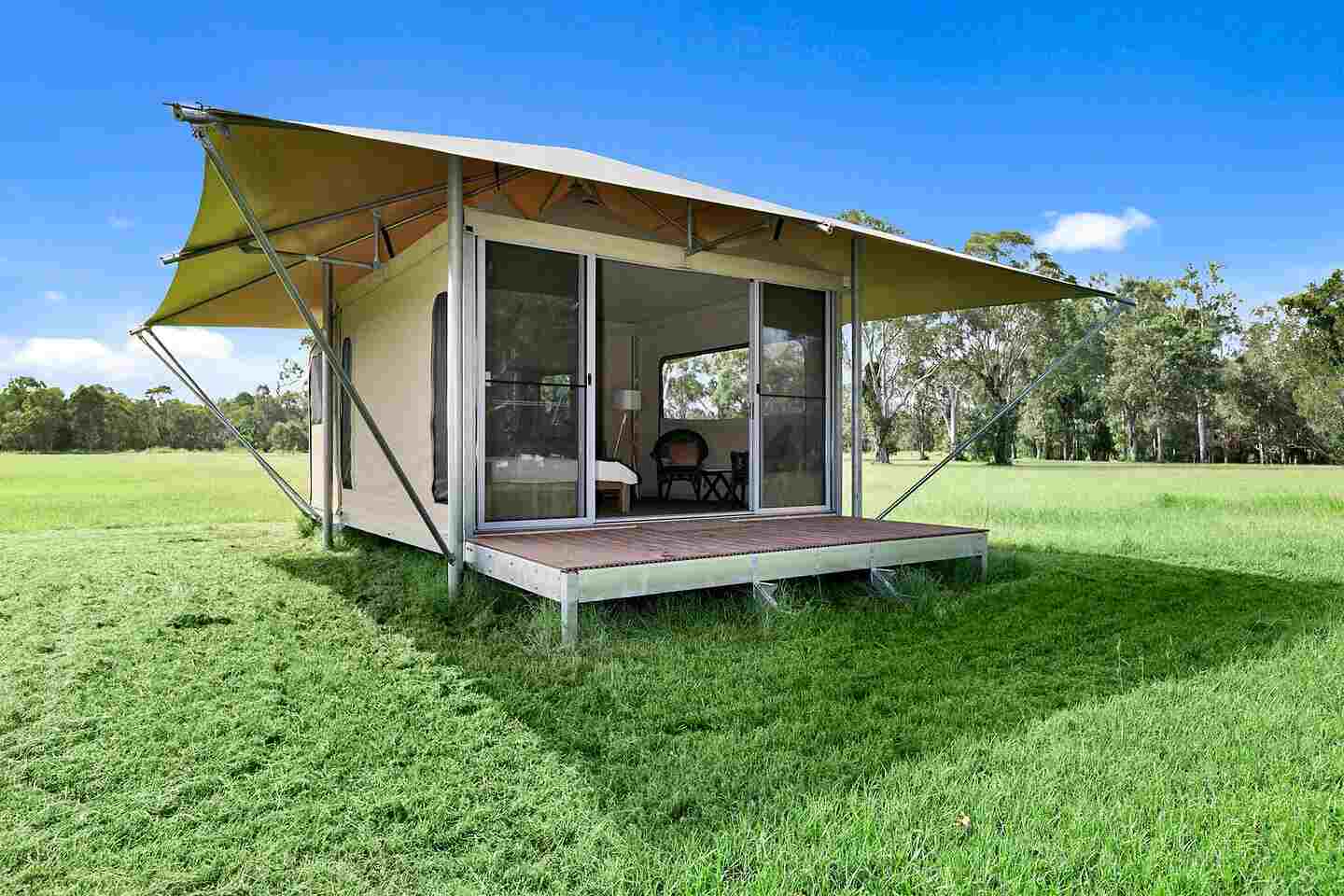 Nestled on the edge of the serene Lake Cootharaba, Habitat Noosa offers a unique glamping experience in the heart of the Sunshine Coast. Habitat Noosa offers unique water tours of Noosa Everglades, Australia's only everglades which are located within a UNESCO world network of biosphere reserves.
Perfect for families or small groups, glamping options include Wilderness Safari Tents, with a queen bed and 2 bunks, and Paperbark Glamping Tents, including a king bed, private ensuite, and a chance to get up close with Grey Kangaroos. On-site activities include 9-holes of frisbee golf, stand-up paddleboarding, canoeing, and watercraft rental in the beautiful bushland setting.
The CootharaBAR & Bistro serves up dishes inspired by the region's fresh and local produce. Of particular interest to many visitors is the on-site microbrewery, offering a selection of 11 refreshing beers to complement your daily adventures.
Best Small Island Oasis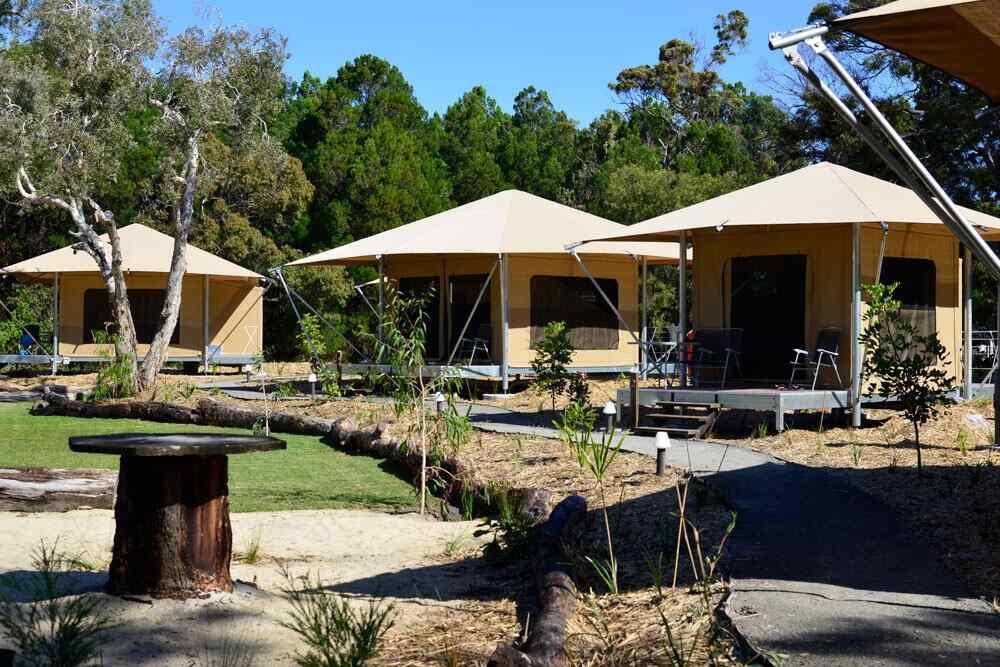 Something city-dwellers will notice right away upon arriving at Moreton island is there are no paved roads! Castaways is a tranquil oasis located in the township of Bulwer at the northern end of Moreton island, but just steps from a calm water beach and pristine National Park.
Guests may find their favourite activity is snorkeling in the Bulwer wrecks, three shipwrecks where visitors can encounter schools of fish, turtles, rays, and harmless wobbegong sharks. For those with grander snorkeling ambitions, staff can arrange for a tour further south to the famous 15 sunken ships of the Tangalooma Wrecks. Other tours include 4WD island highlight trips, whale watching, and a Sand Adventure Trip to explore the buried Teewah Coloured sands and go sand tobogganing.
Each family glamping cabin can host up to 5 people, including a luxury king-size bed, private en suite bathroom, and a shaded veranda with gorgeous views of the gardens. While outdoor kitchens are available for guests' use, Castaways Cafe and Licensed Store sells Australian cuisine for breakfast and lunch. The store even sells fishing gear if you want to try to catch your dinner!
For Greatest Variety of Beach Spots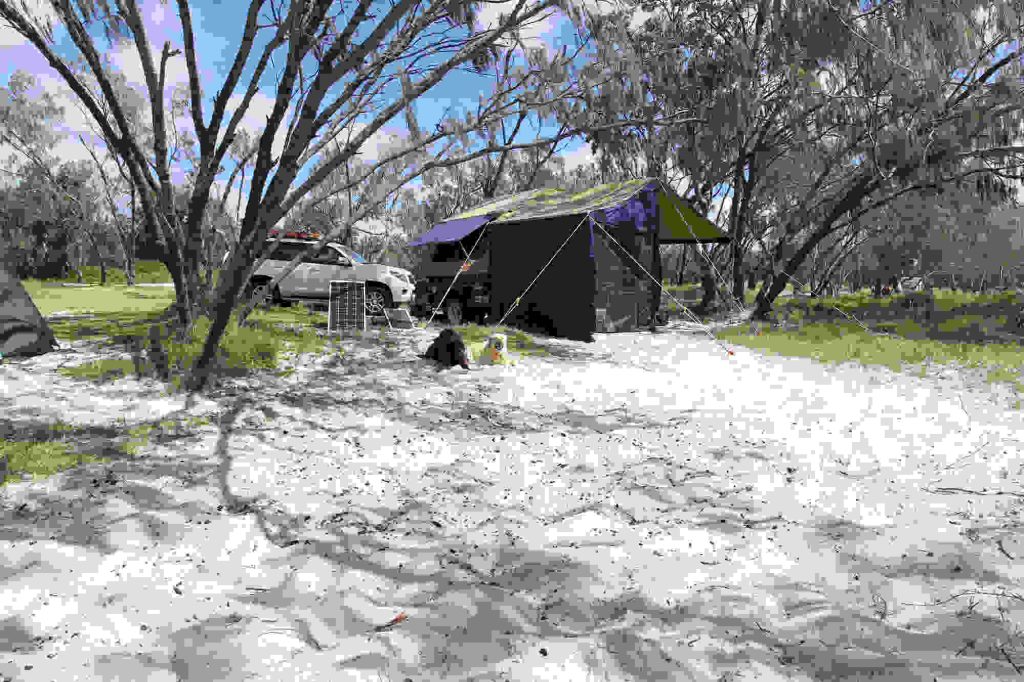 Minjerribah Camping extends a warm Yura (welcome) to visitors seeking a unique beachfront camping experience on Minjerribah, also known as North Stradbroke Island. If you're looking for a range of options, this Indigenous-owned spot has you covered. The Quandamooka People have provided over 500 campsites on their island for visitors to enjoy.
Cylinder Beach, Adder Rock, Amity Point, and Bradbury's Beach all offer a range of glamping options, including Eco Island Tents, EcoShacks, and cabins with ensuite facilities. Several of the sites are also fully wheelchair accessible for visitors who have impaired mobility.
One of the most unexpected delights is daily visits from dolphins in the calm waters at the family-friendly Amity Point. If you're looking for a more surfer-focused spot, visit Adder Beach, which enjoys the shade of native tea trees. There's enough variety in the beaches and glamping sites to keep guests coming back again and again.
Best For School Holidays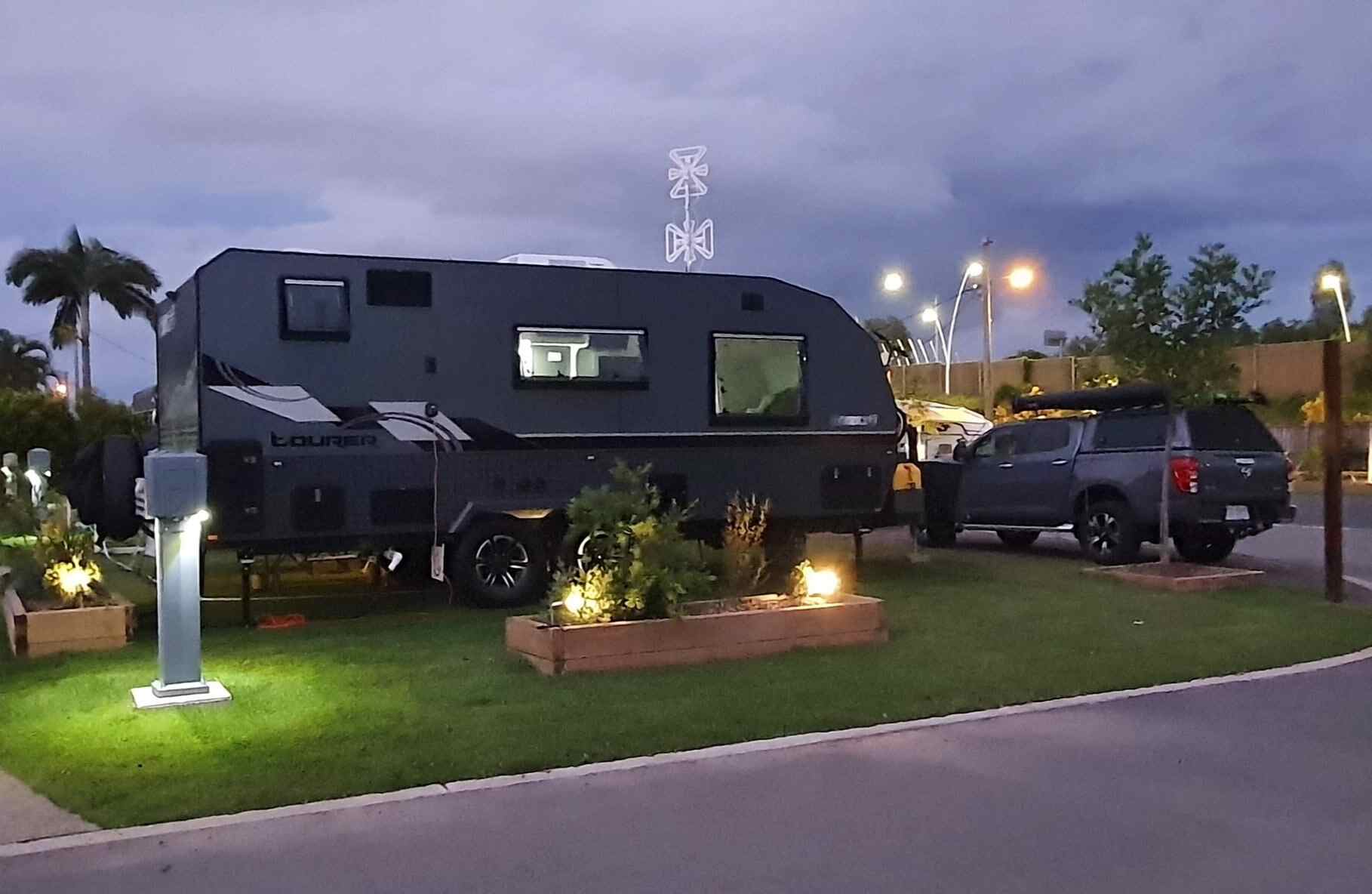 Want to keep your kids busy? Big4 Maroochy River staff plan extra activities for children during the holidays, including crafts, wildlife shows, dance classes, outdoor activities, and games. The park includes a saltwater pool, pedal carts, outdoor movie nights, and a jumping pad.
Dogs are welcome, and the site is only a 10-minute drive to Mudjimba's beautiful North Shore Beach which allows dogs to frolic off-leash in the sand and surf. A range of glamping options includes many different sizes and styles of small cabins, although all are located near the playground and include private BBQs.
Perhaps what the site is best known for is embodying the spirit of the area, offering a relaxed environment, a strong sense of community, and billing itself as "the friendliest park on the Sunshine Coast".
Best For Mountain Lovers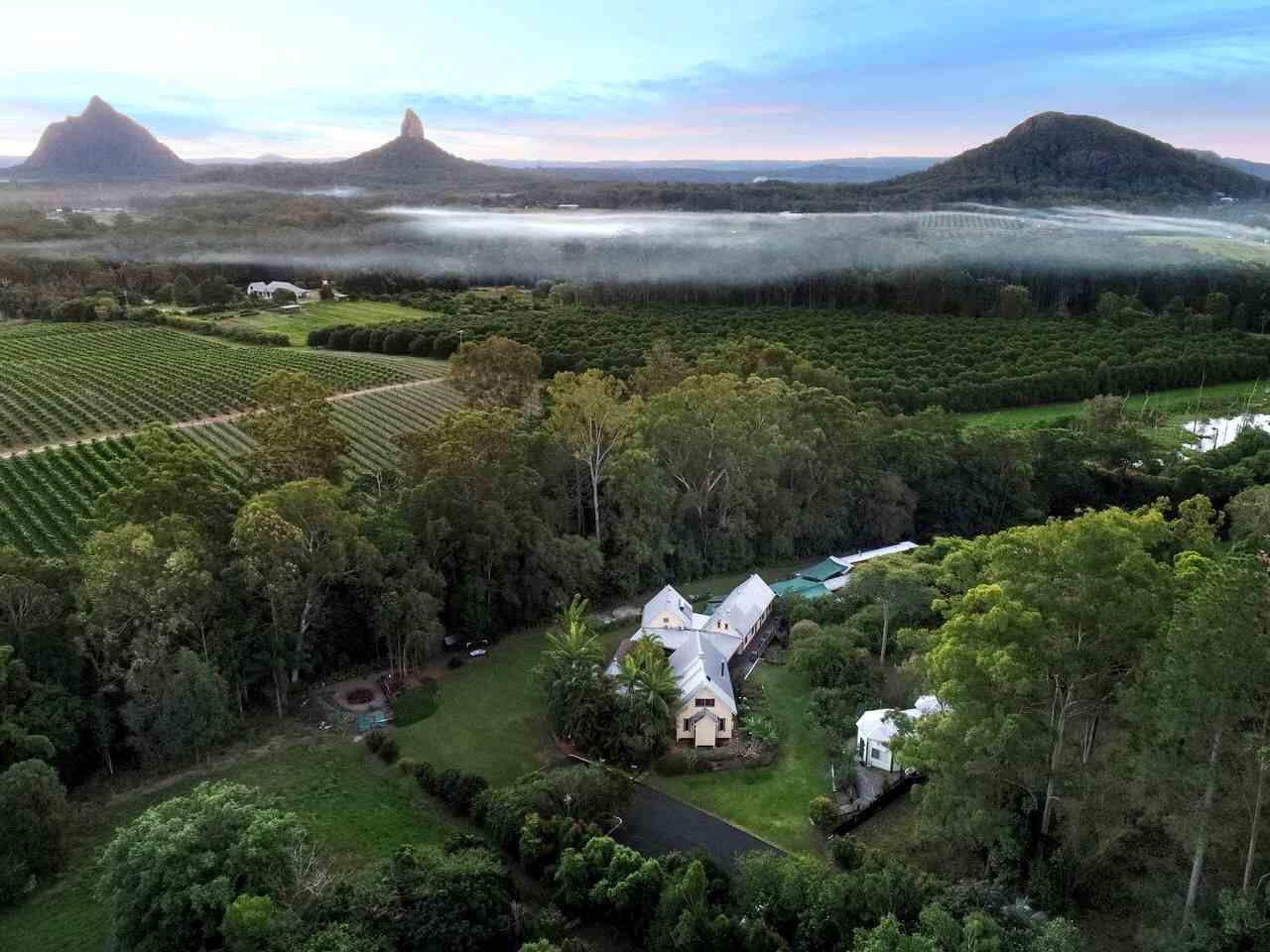 Nestled in the heart of Queensland's most unique mountains, Glasshouse Mountains Ecolodge is a haven to enjoy most unique steep sided volcanic plugs with 16 peaks overshadowing the Sunshine Coast Hinterland.
For history buffs, the EcoLodge's glamping accommodations include restored train carriages from bygone eras, including bedrooms, ensuite bathrooms and kitchenettes. All accommodations include reverse air conditioning, keeping guests cool in summer and warm in winter.
The extensive range of activities includes guided bush tucker tours, art walks with recycled material installations, and nature scavenger hunts for children. Guests are welcomed to plant trees on the property, part of EcoLodge's strong commitment to conservation.
The team is deeply committed to community engagement, actively engaged in local environmental projects, and focuses on offering locally sourced goods, including Aboriginal art. Guests can feel confident about choosing this breathtaking and socially responsible mountain retreat!
Best For Cosy Nights Every Season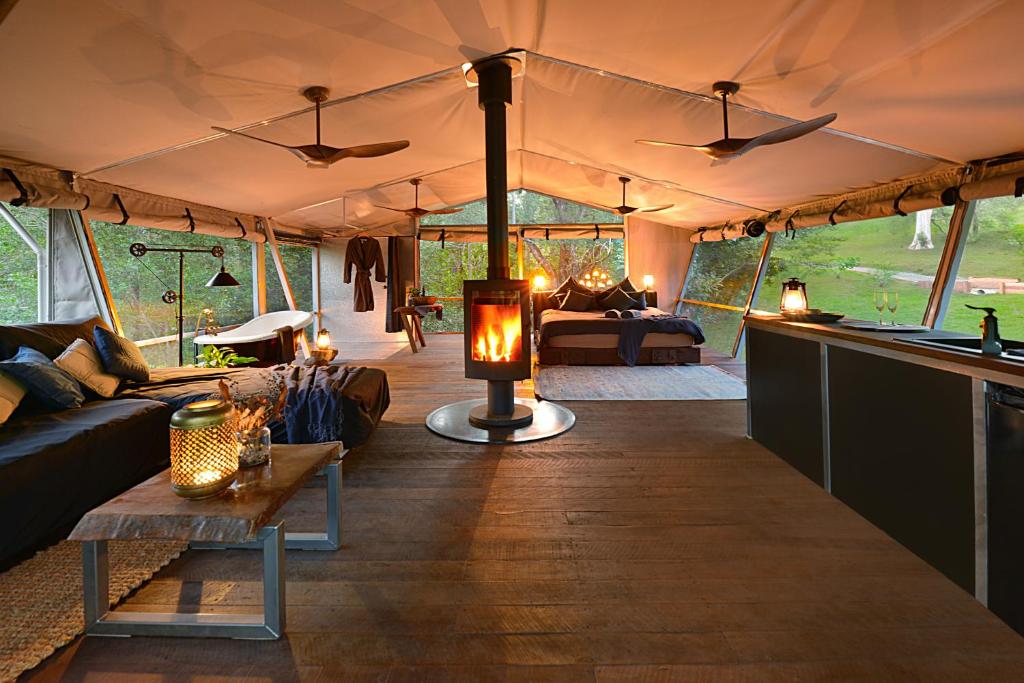 Starry Nights Luxury Camping offers a truly cosy and immersive experience in the midst of nature. Set in the rainforest surrounded by undulating hills in West Woombye, the property includes a permanent creek, stony banks and riverbed with swimming holes.
Perhaps most unique are the 75 sqm bespoke tents, made personally by the owners and positioned for privacy from other tents on the property. Each tent includes a comforting wood fire, rain shower, free-standing bath, and a well-stocked kitchenette. To really cosy up, you can expect to enjoy a king-sized bed with organic linen and pillow tops, plush robes, plus woollen blankets and rugs. Designed for year-round comfort with insulation and ceiling fans, the tents are perfectly situated for beautiful breezes.
Starry Nights is a place where you can truly unwind, surrounded by the gentle sounds of Petrie Creek and the beauty of the Australian bush in the well-crafted glamping destination.
Best For Sustainability Enthusiasts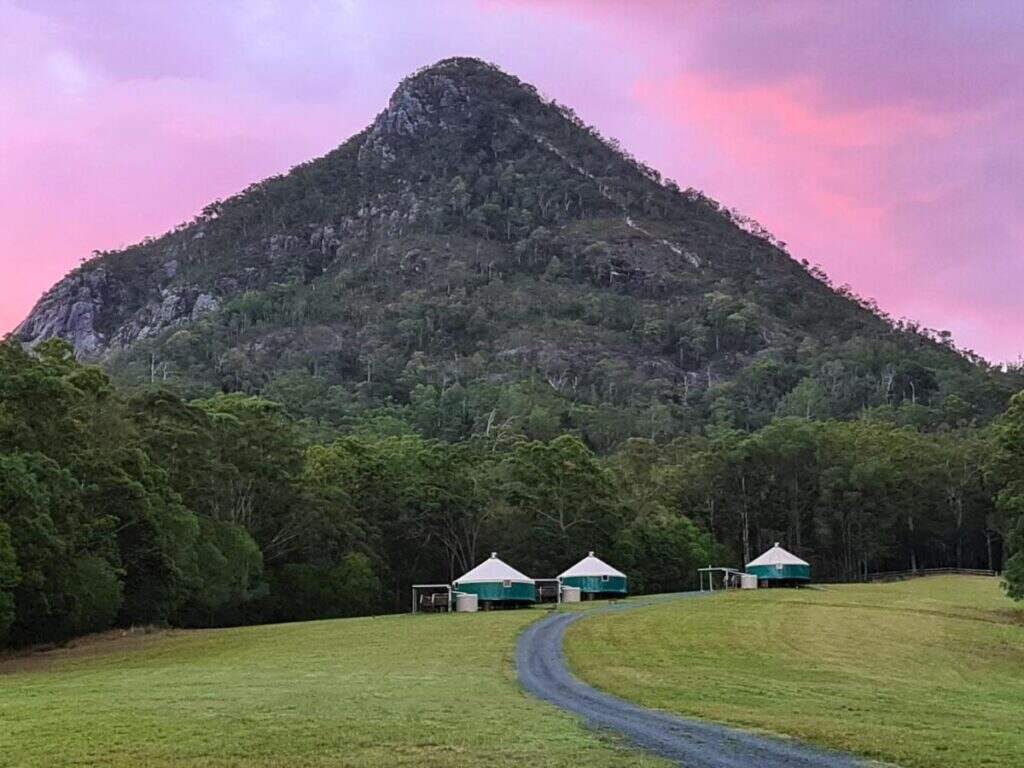 Noosa Eco Retreat is a unique eco-tourism destination situated in the heart of Noosa's biosphere. Spread across more than 100 private acres, this intimate setting caters to a maximum of 12 adult guests, making it the perfect place to unwind, rejuvenate, and embrace nature.
Six spacious and self-contained eco-luxe Yurts provide eco-friendly accommodations with breathtaking views of Mount Cooroora. The Yurts include luxury king beds, en-suite bathrooms, open living and dining spaces, and well equipped kitchenettes. You can even expect regular visits from wallabies right on your deck.
Noosa Eco Retreat places a strong emphasis on sustainability and nature, offering direct access to Tuchekoi National Park and Noosa's trail network for activities including mountain biking, hiking, and birdwatching. Enjoy this stunning paradise all year round!